Adventure Thirteen - Sixth Column
Adventure Thirteen is the thirteenth adventure released at Realms Beyond. This adventure opened on September 4, 2006.

Information
Results

This is a short report of Adventure Thirteen. I am short in time, but I hope to expand this report in the future. The rules were rather simple, but I can see how many people may have gone off track with the rules. I basically only had to remember not to build wonders in my capital, as I built walls and castles in all cities as soon as I had the tech to do so. Unlike most people, I actually founded Athens on the spices. Why? Frankly, I didn't see the fish and I wanted more than one food bonus. As you can see in the screenshot, I had not turned on my resource labels yet.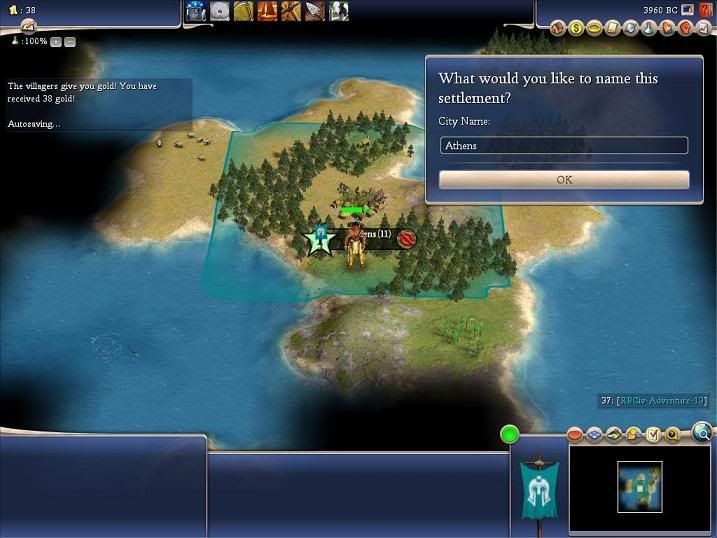 It didn't take me long to run into the other leaders. I ran into them in this order: Catherine, Isabella, Ghandi, Mansa Musa, Mao, then Washington. In fact, I didn't meet Washington until much later after meeting the others. I got ahead quickly in score by founding my six cities rather fast. Unfortunately, I only went downhill from there. Sparta was founded on my capital island where it was in range of the corn, horse and pigs. Thermopylae was founded on the island to the north in range of clams, cattle and pigs. Corinth was founded on that same island in range of ivory and rice. Delphi was founded on the island just to the east to get the iron and fish, but also ended up having aluminum and coal. My last city, Pharsalos, was founded on the gem island just east of Moscow. I worked fast to get the circumnavigation bonus. Unfortunately, I reached several dead ends, but in the end: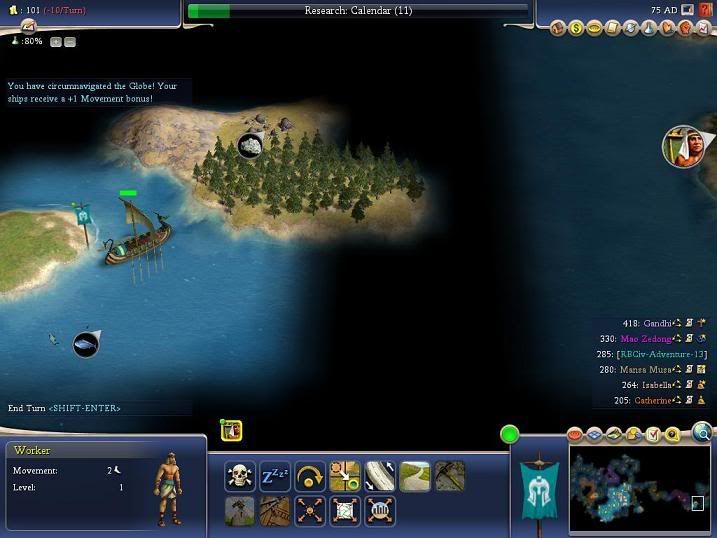 My first wonder was built in Thermopylae in 1200 AD (The Colossus). In the meantime, Sparta was pumping out Great Scientists at a furious rate. I didn't switch to a religion during the entire game. Most of the AIs had different religions, and I didn't want to get involved in any wars. I did found Islam, however. In 1585 AD, Isabella declared war. I didn't know why. She didn't launch a single land attack the entire war. I was first to reach Liberalism and took Astronomy with it. In 1700 AD, I built Versailles in Thermopylae. I don't even remember starting it, but that wonder set back Thermopylae with city improvements. From that point on, I had several Great Engineers popping from Thermopylae and Sparta, which I saved for crucial wonders, such as the United Nations, since I began to fall behind in tech. I did built it in Thermopylae in 1975 AD. After the first vote, I was thoroughly shocked:



Washington voted for Gandhi, which wasn't surprising since they were both Buddhists. I wasn't surprised that Mao voted for me either, since he was Friendly. Mansa Musa was Pleased with Gandhi and myself, so I was lucky he voted for me. Catherine just made me confused. She was CAUTIOUS with me, and yet she still voted for me. Isabella didn't vote though, but I sure knew why she didn't vote for me...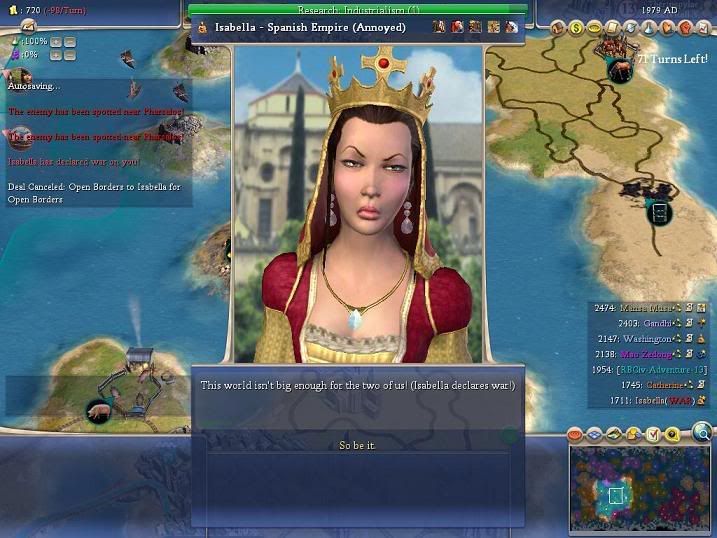 I was scrambling to suck up to everybody and improve relations with them. If I didn't win NOW, then I would surely be wiped out, either by the Spanish war, or by a Time Loss. I was no where near to finishing my spaceship. Of course, I was throughly impressed by the stack Isabella put together in between wars: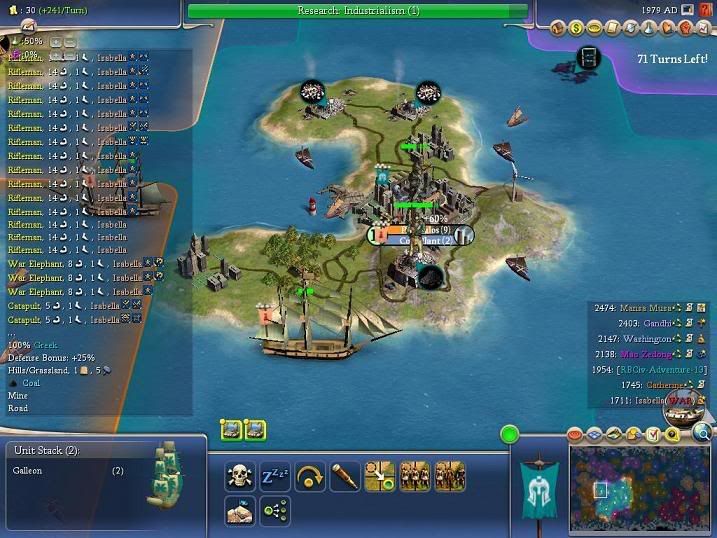 I quickly upgraded my units and held out for a turn, but just barely. The next turn:



Umm.. Okay :)
I was literally speechless at this picture. I was only Friendly with a single AI! Even WASHINGTON decided to vote for me. It almost reminded me of Civ3 late game sucking-up right before the UN completed. But, I'm not complaining!

So there you go. I don't think I broke any rules. A diplomatic victory in 1980AD.