Epic Twelve is a repeat of the twelfth epic for Civilization III. This epic opened on June 25, 2007.


Information
Results


---

The original Epic Twelve for CivIII was an immensely difficult game because of the circumstances surrounding the starting position. The starting position for this game seemed no different. Sullla, the host, had obviously moved the settler since a capital never has snow within its BFC.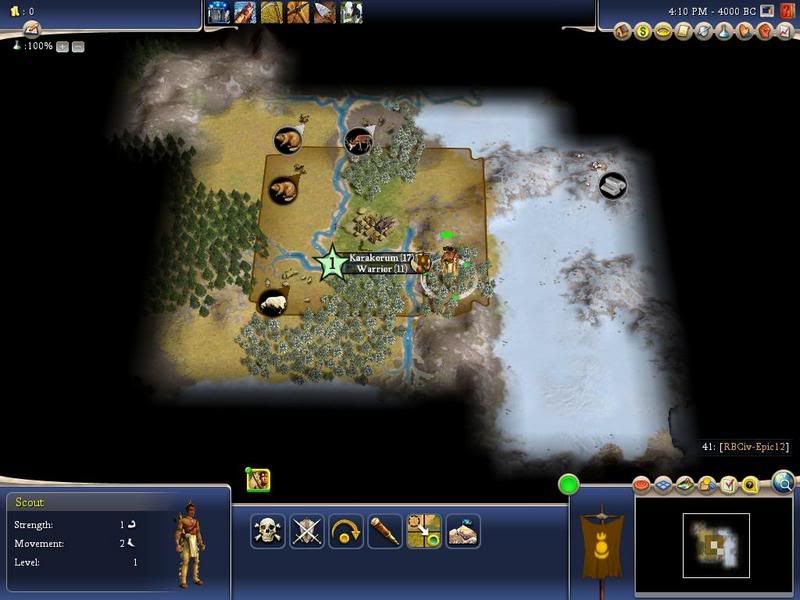 Since this was a tilted axis map, the nicer land SHOULD be to the west. So I moved the scout in that direction, picking up Agriculture and Mysticism from huts along the way. In 3790 BC and 3700 BC, I met HC and Asoka respectively. After scouting a bit of nice land to the west, my scout was gobbled up by a bear, and such was the fate of the first warrior I had built. Before long, Buddhism was founded in Delhi and Hinduism was founded in Cuzco.

I was extremely unsure how to approach this game. I decided that the good land that was available would soon be gobbled up by nasty shades of purple and orange, so I would go for an early military campaign. Unfortunately, knowing Sullla, there would most likely be no copper or iron available for my use. I took my chances and beelined to Iron Working after the initial worker techs. I could always try for an archer rush if I needed to.


I was forced to found on the spot in paranoia that Gandhi would settle. This ended up paying off in the long run because...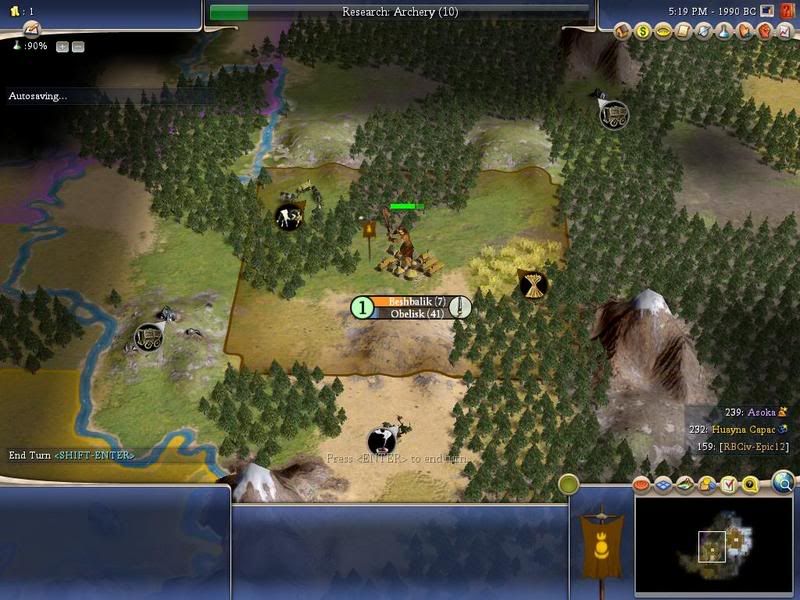 In 1360BC, HC built the Oracle and founded Confucianism in Ollantaytambo. The time to strike had come. Well.. not exactly. I had to construct myself an army first. Finally, in 685BC, I declared war. Ollantaytambo fell immediately.
Corihuayrachina to the east is razed. Next, I take Cuzco and Tiwanaku. I then make peace and extort Fishing, Mathematics and a turn of anarchy from HC.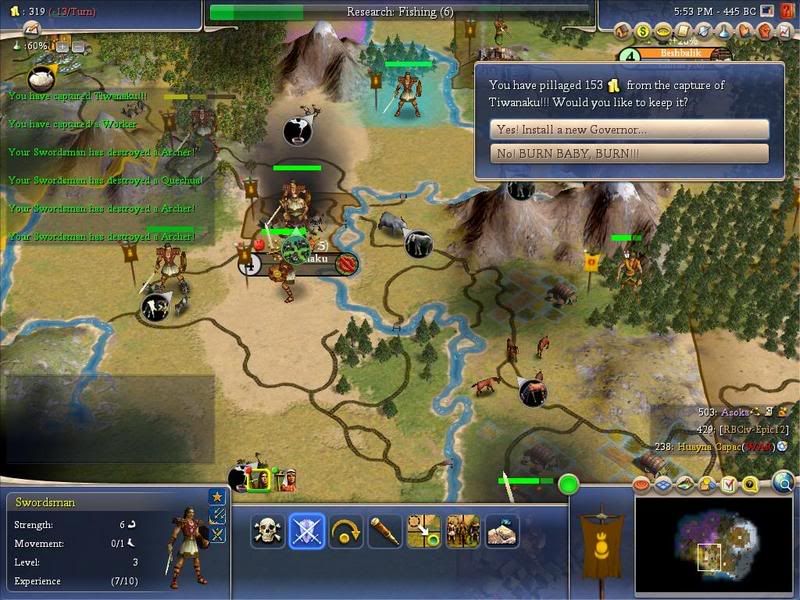 In case anyone cares, I "Popped One" (Copper) at Ollantaytambo. I take the next 1000 years to rebuild. I manage to grab the Hanging Gardens during this time. Then, in 635AD, I declare war on Asoka. The first city to fall is Karachi, followed by Circassian, Delhi and Madras. I stop the war due to terrible maintenance costs. Around this time (1000AD), contact is made with Frederick and Mansa.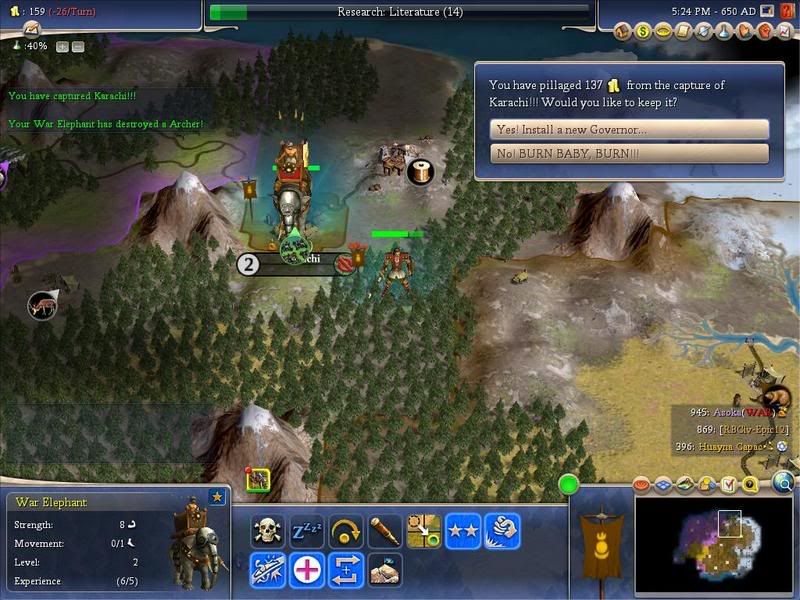 Silly barbarians: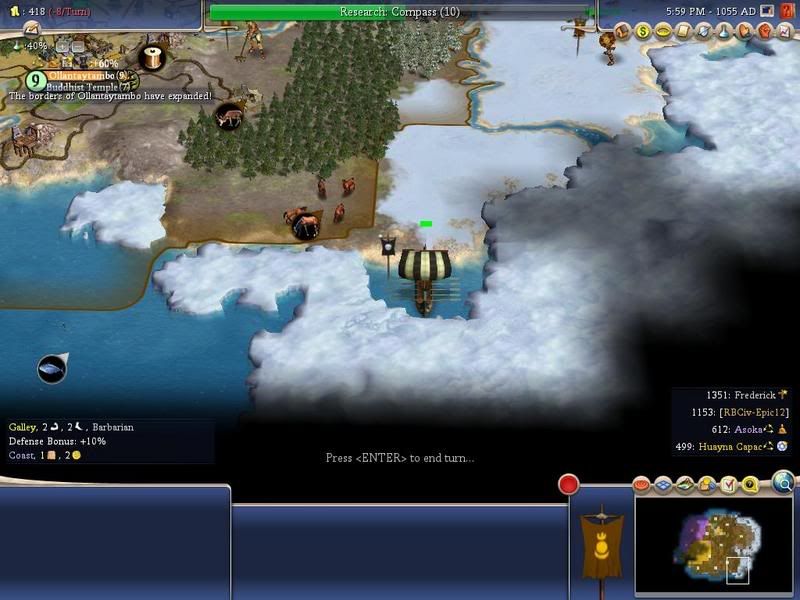 In case anyone cares again, I "Popped Another One" (Silver) at Delhi, which is currently constructing my Forbidden Palace. In 1286AD, I declare war on HC again. Taking all but a city he managed to sneak into the middle of my lands. More time goes by and contact is made with Cyrus and Alexander. Then, in RB29 style, HC is removed from the game.


In 1526AD, I rinse and repeat with Asoka, leaving only his island city. Between the two wars, I am brought into a phony war with Alexander to improve relations with Frederick and Mansa. Once I'm done with this island, I want to play to a peaceful end. War continues to be ravage on the Alex/MM/Fred island and finally, Alexander is wiped out, mostly because of Fred.


Oh, and by "rinse and repeat", I really meant "rinse and repeat".


At this point, it is pretty much smooth sailing. I did not wish to enter Modern Age combat, so I began a space race against Fred. My economy continued to improve due to the help of the Mahabodhi and the Kong Miao. Even though I seemed in a good position, Fred gained a huge advantage by taking Alex's land and began to inch ahead. I built Broadway, Rock N' Roll, the Eiffel Tower and the Space Elevator, and Frederick built everything else. Finally, after an extremely tight race...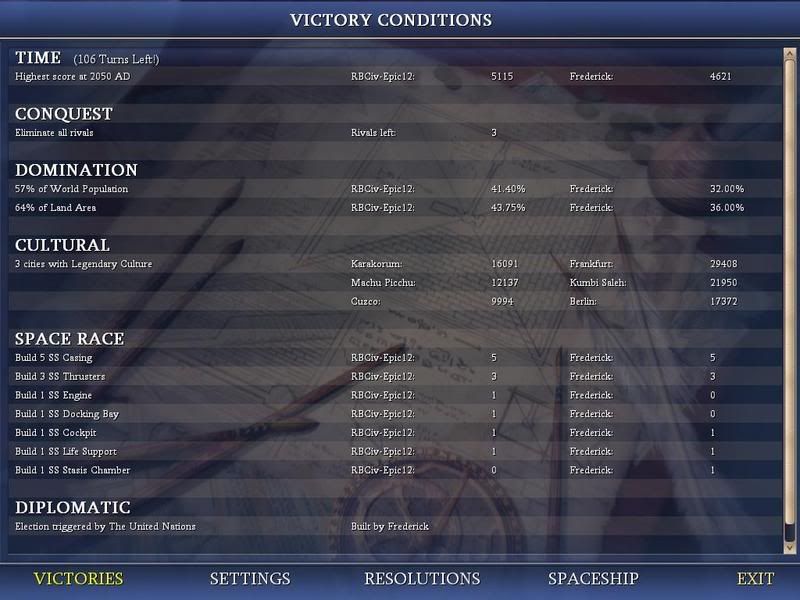 We were indeed a happy world: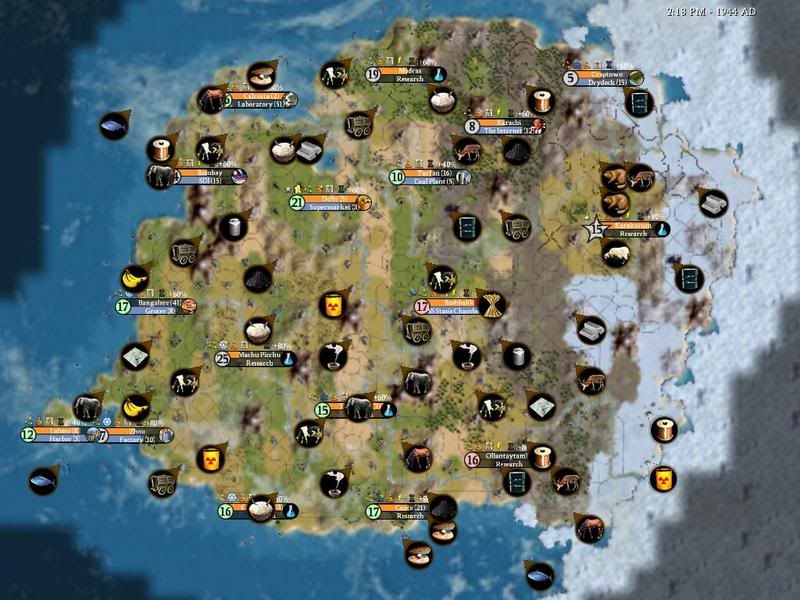 Oh, and that barb galley? Yup, its still there.

Thanks to Sullla for hosting the funnest game I've had for a long time (or ever). I must say, it wasn't as difficult as it was made out to be, but definitely challenging in so many different ways.

Kodii - Spaceship Victory - 1945AD