Epic Seven is a repeat of the seventh epic for Civilization III. This epic opened on August 7, 2006.

Information
Results

Although this epic was already at Immortal level, I did not think it would be that big of a challenge. After all, our only opponent (Alexander) could not collaborate with other AIs. All I had to do was suck up to Alex the entire game and win peacefully. Why did Sirian say that Domination would be the easiest victory method? I think that a Cultural Victory was obviously the way to go in this game. Here was our starting position: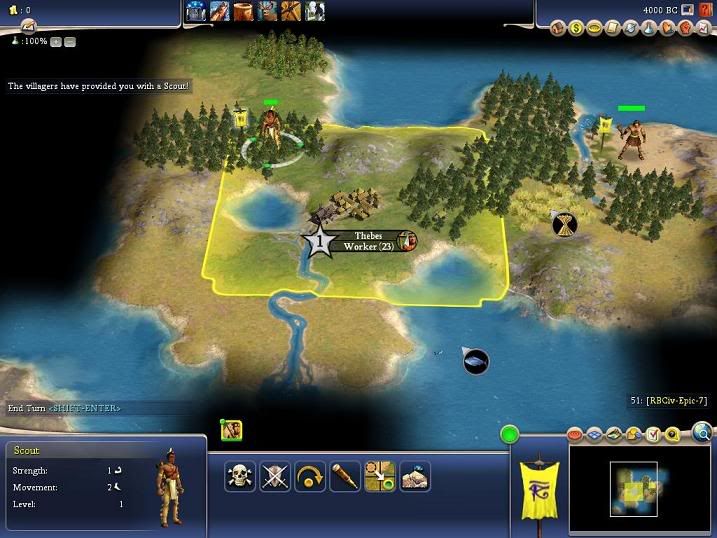 You can see that I popped a scout from that first hut. There was only one other hut on our continent, and it gave me 51 gold. I decided to found on the spot because if I moved south, I might gain too many sea tiles than I would have liked. Techwise, I beelined to Bronze Working, then to Masonry in hopes of snagging the Pyramids. This was Immortal, and my citizens would become unhappy fast. Representation would help a lot, not only with the unhappiness, but with science. Without the Pyramids, Alex would zoom much farther ahead in tech than with it.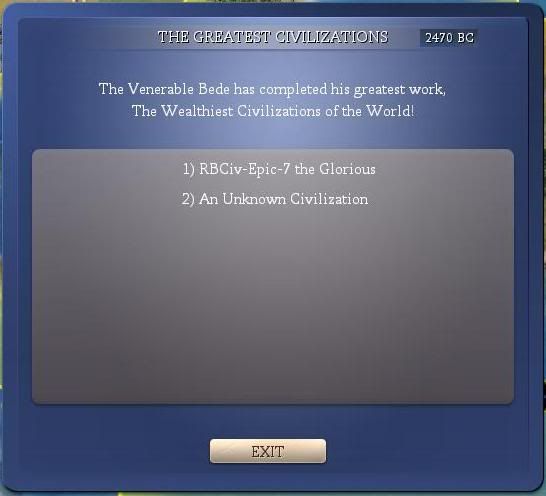 Why thank you! Its good to see that I'd be ahead of Alex in something at some point in the game. Actually, the next time it popped up, it showed that I was still number one in wealth. Yippee! In 2470 BC, I founded Memphis next to the stone. I didn't know it, but Memphis would become my Great Artist factory.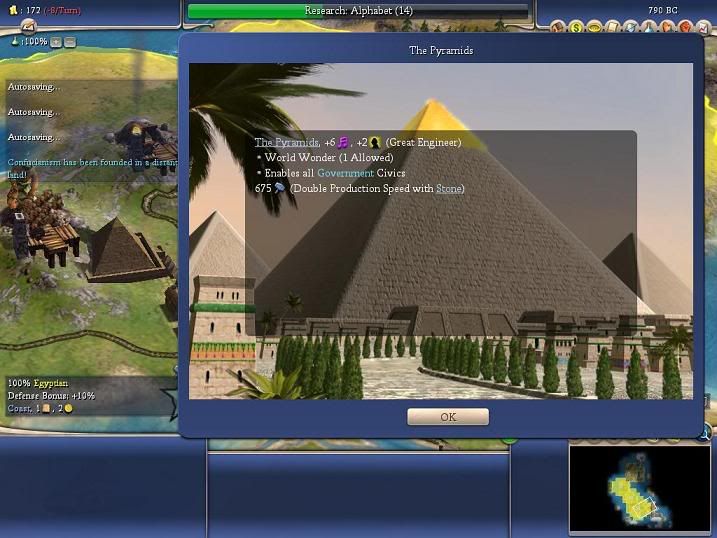 I got the Pyramids. I switched to Representation right away. In 685 BC, I founded Elephantine. I guess I didn't make note of when I founded Heliopolis, but I did, next to the Ivory and Bananas. Finally in 445 BC, I met the tyrant. Commence the sucking up! Lets just hope that his state religion (Buddhism) would spread to me eventually...


I spoke too soon! Shortly after, Herodotus revealed to me that Alexander was more advanced that I. Really?

In 130 BC, I founded Alexandria next to the corn to the north. That would by my last city on that continent, as Alexander snagged the most northern tip.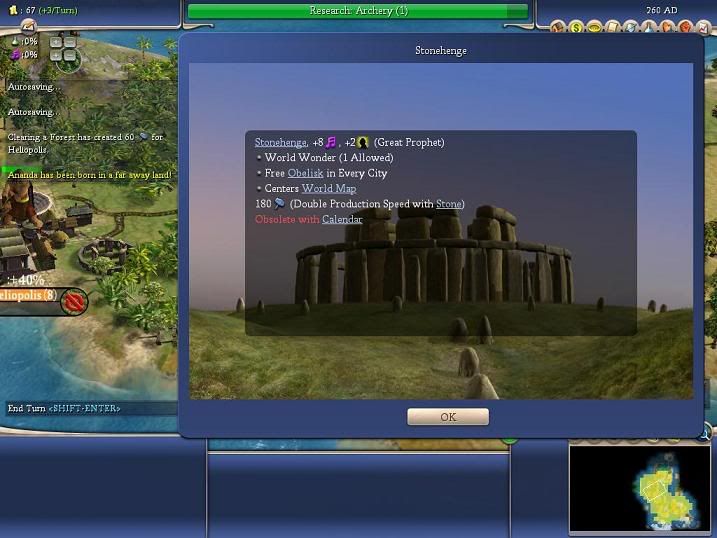 Yea. Stonehenge. Why didn't Alexander build it? It was a cheap wonder and he wasn't creative. By now, he had Calendar and it was useless. The latest Stonehenge I've ever built!


Why thank you! The more religions, the better. Finally, my Great Engineer popped in Thebes. I used him to build...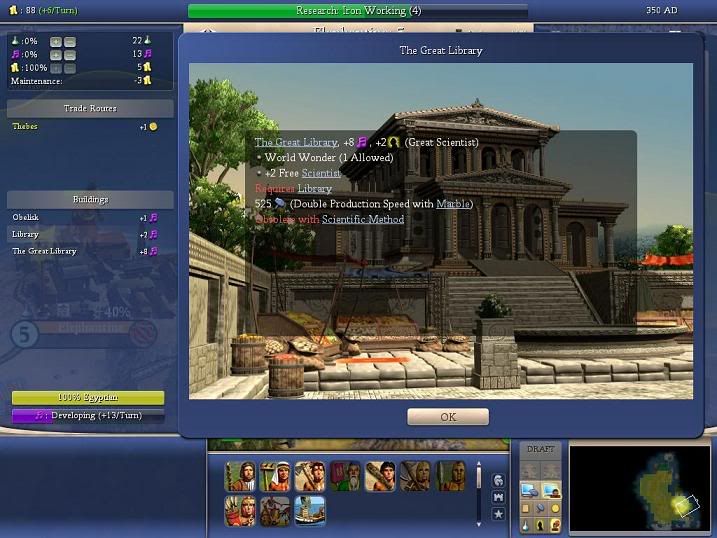 Pliny says that Alexander is the most cultured. Not for long! Merit Ptah popped in Elephantine not long after, and I used him for an academy. Elephantine would run most of my science until I decided to switch to Universal Suffrage. Hinduism spread to Heliopolis soon after. In 680 AD, I got Homer from Music. I added him to my Capital, as I wasn't sure of which cities would become my legendary ones. In 1025 AD, I popped another Great Scientist which I used as a superspecialist. That same turn...


Three religions, three to go! Soon after, Confucianism spread to Elephantine. Then...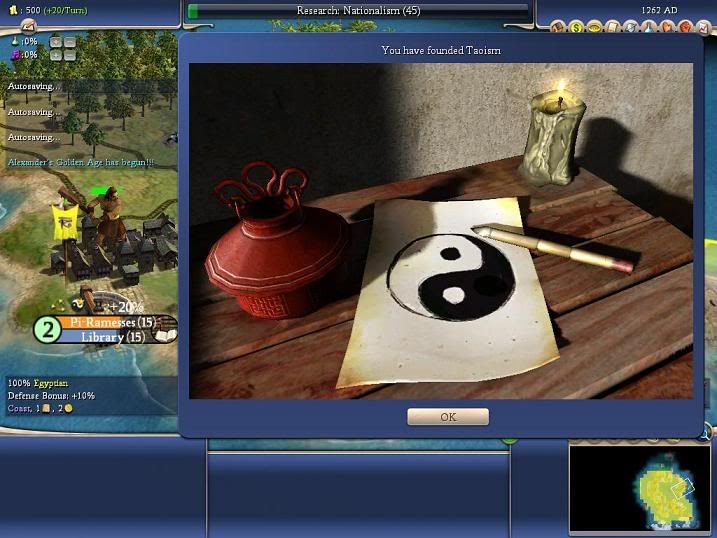 I now had five of the six religions in my land. Unfortunately, Islam wouldn't spread to my lands for the rest of the game. In 1268 AD, I built the Notre Dame in Thebes.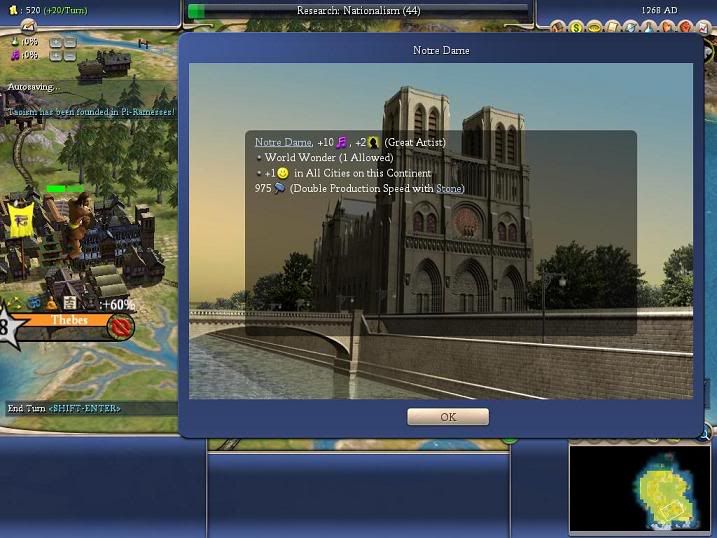 I popped my third Great Scientist in 1298 AD, which I used to lightbulb Paper. In 1406 AD, I got another early wonder that Alexander neglected. The latest Parthenon I've ever built!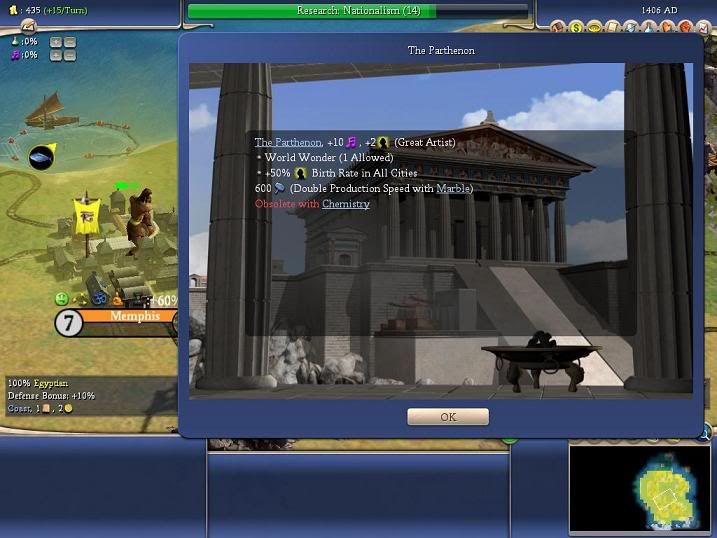 Toynbee says that I'm still the wealthiest. Hooray. Finally, in 1571 AD, a Great Artist popped from Elephantine, instead of a Great Scientist. I added him as a super-specialist. At this point, I knew which cities would become my legendary ones. Thebes, Heliopolis and Elephantine. Memphis was a sad location for a Great Artist city, but it became one. In fact, I had three semi-great-artist-factories. Throughout the rest of the game, I'd continue to pop Great Artists from Memphis, Thebes AND Elephantine. But before that, I popped another Great Engineer in Thebes. I think I used him to rush the Hermitage in Elephantine. Three Great Artists later, I popped a Great Scientist, which I used to start a very sad Golden Age. That golden age helped me finish a lot of religious buildings. In 1772 AD, Pliny still says that Alexander is the most cultured. Finally, in 1776 AD, my research came to a halt after Liberalism. I switched to Universal Suffrage and Free Speech for the culture and the money rush for religious buildings. Two great artists later, Thucydides says that Alexander is the most powerful. What a surprise. Another Great Artist later, the same idiot says that Alexander is the largest. These aren't great works! They're just stating the obvious.

I forgot to mention that Alexander switched to Free Religion. We had been Friendly up to that point. Now he was just Pleased. During the entire time he was Pleased, I was extremely on edge. Alexander could attack me at any moment. My defence was crap, as you will notice through my Military Advisor at the end of the report. Fortunately, two Great Artists later: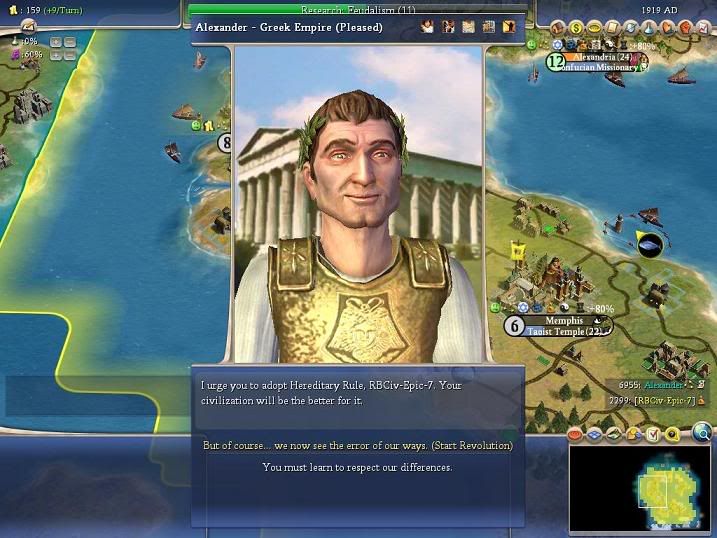 Why, of course! I was lucky that Alex asked, as that would make him Friendly again, and would stay that way until the end of the game.

Alexander was way ahead in tech at this point. He had built all the modern wonders and had built his Apollo Program already. It was now a race. A space/culture race. Finally, Gibbon said that I was the most cultured. Perhaps this was a good sign? ;D

Of course it was. In 1944 AD: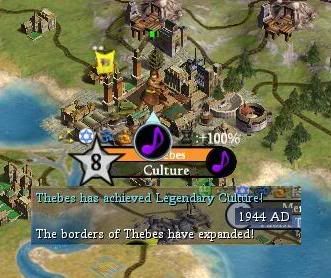 One Great Artist later...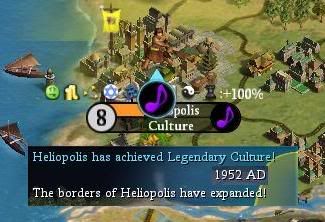 Finally...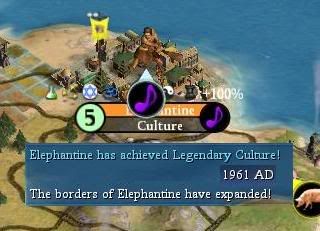 This game wasn't all that difficult. It was quick and it had its tense moments. As you can see, Alexander built quite a few spaceship parts.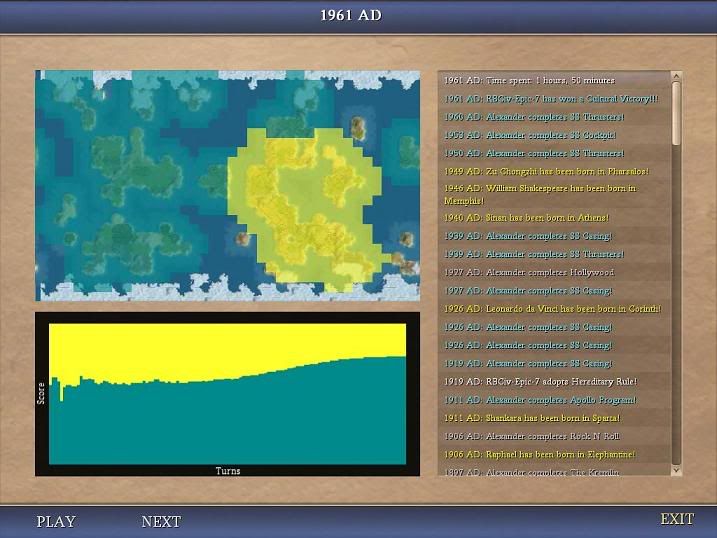 That was okay, because he loved me, and I loved him.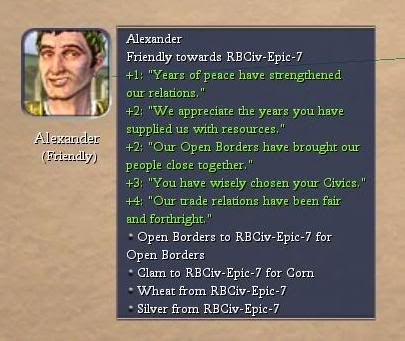 My small, but great empire: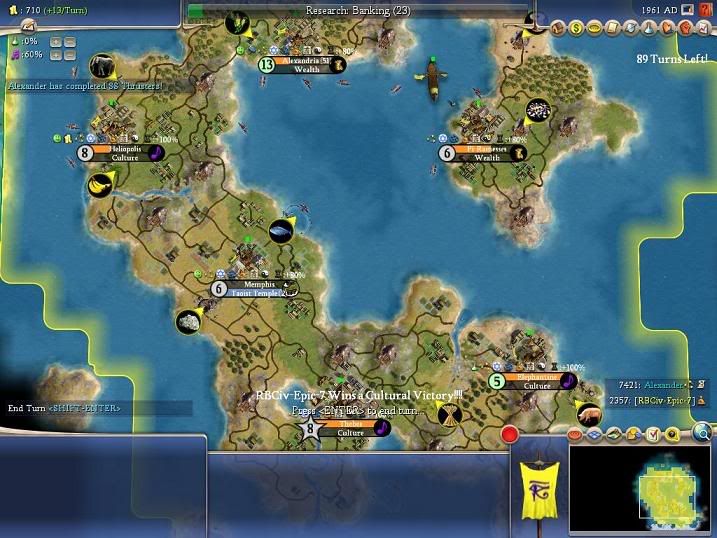 My three legendary cities: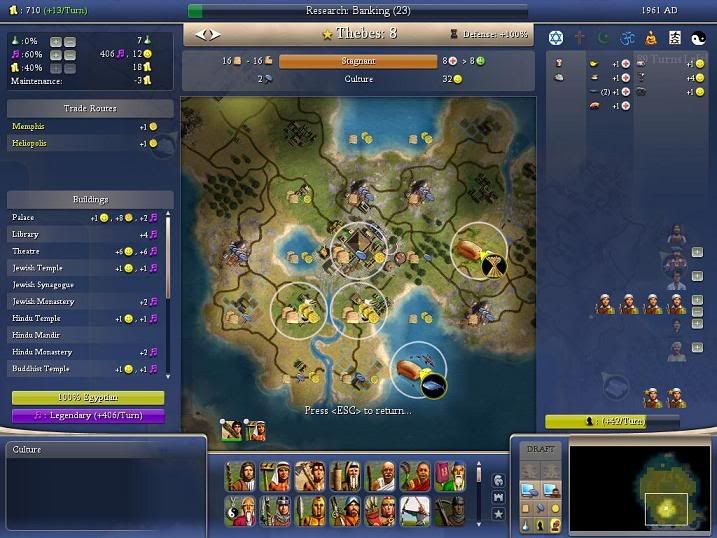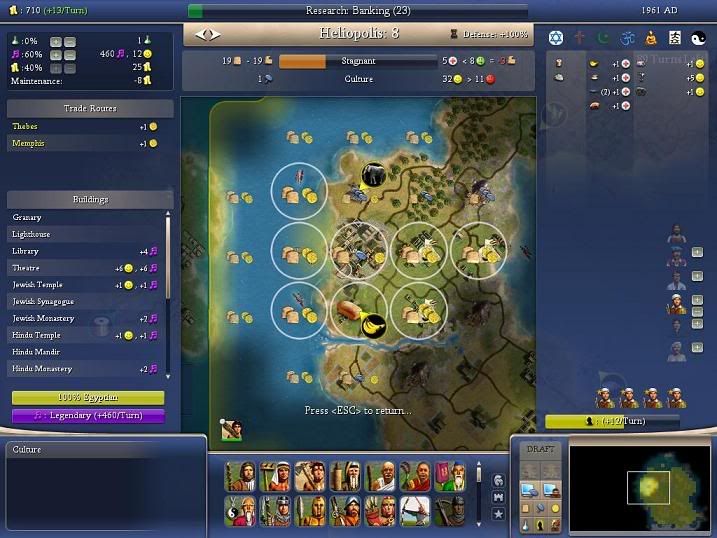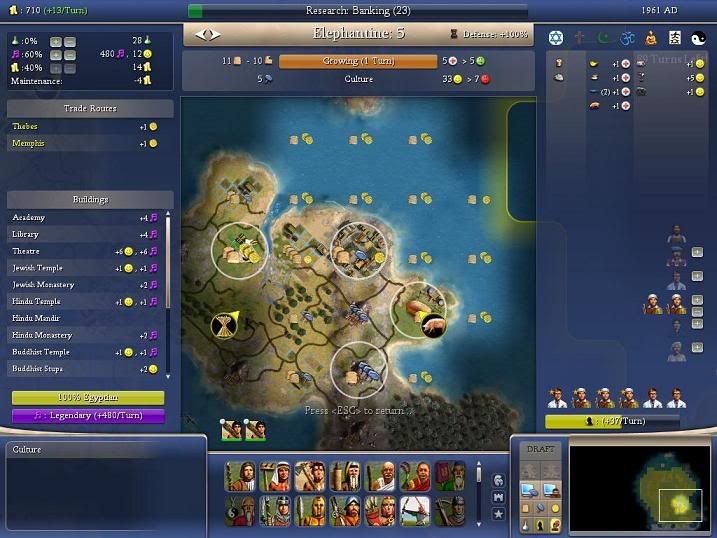 Yes, did you notice my military?

Kodii's great army: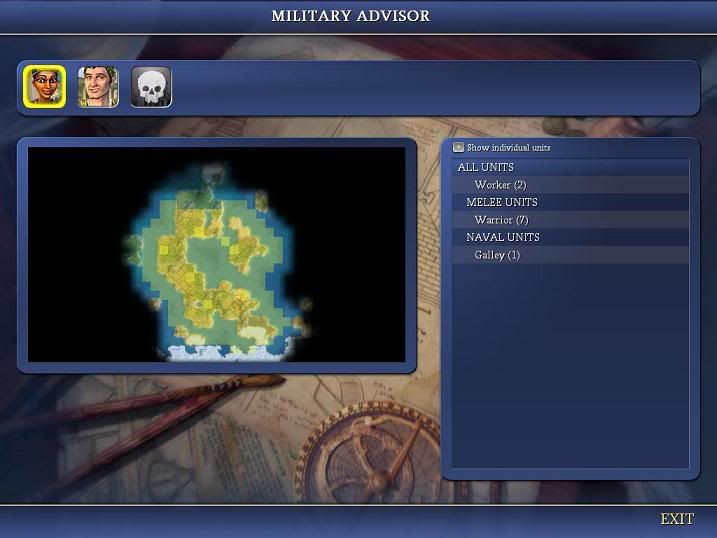 It was a fun game. Thanks to Sirian!

Cultural Victory 1961 AD (same date as my Adventure Nine victory!)
Score: 2357