'Old World' vs 'New World'
On August 16, 2006, a few of us at the RB community set up a multiplayer game. It was set to start at 4:00 PM EST. In the lobby, four of us found each other and began a game. Since all of us were rather new to multiplayer, we worked together to decide on settings. In the end, we decided to play a game that was 'Old World' vs 'New World', that is, the Europeans (mostly_harmless and mucco) against the North Americans (mbuna120 and I). It was nice to play a game where everyone was from a different country. We all chose to be random civs and began the game on a Wheel map.

mostly_harmless - Victoria of England
mucco - Huayana Capac of Inca
mbuna120 - Hatshepsut of Egypt
Kodii - Kublai Khan of Mongolia

(I just noticed that I played against three players beginning with lower case 'm's)


I didn't take any notes on the game, nor many screenshots, so I'll just post a summary of what happened. My starting position was on the east side of the wheel, nestled in a peninsula. Because of my location, I would not be attacked by anyone for the entire game. Although geographically, I was lucky, I didn't have the best land.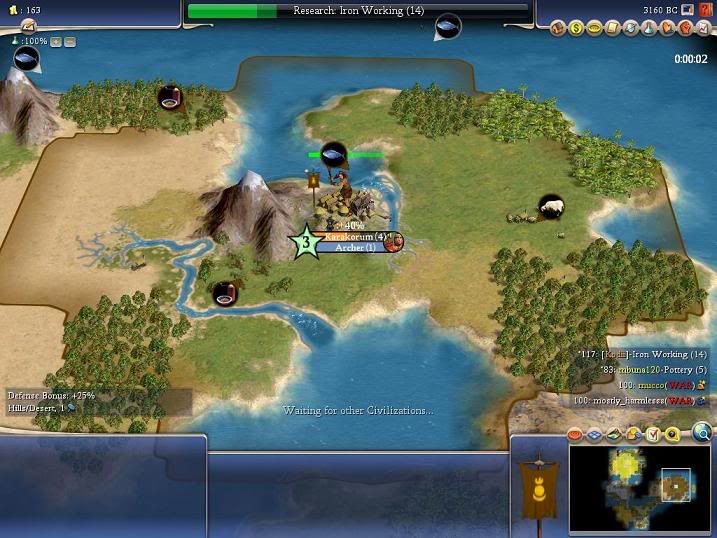 mbuna120, however, had some nice surroundings.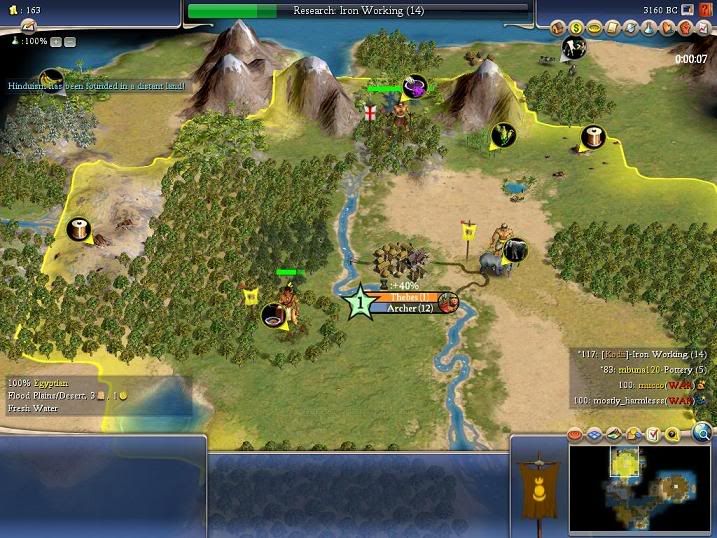 The 'Old World' took a religious and wonder approach, taking all the early religions, as well as most of the wonders. mbuna120 and I went straight for the military techs in hope of launching an early campaign. Of course, we weren't the most experienced in MP, and launched an attack against mostly_harmless' Nottingham, which failed miserably. mostly_harmless did lose a lot of units in the attack, however. In the end, we were very close (except my score, which, for some reason, was at least 300 points behind everybody else). In hopes that the 'Old World' would be eliminated after razing two cities, I snuck into mucco's southern territory and razed Machu Picchu, and then the city he founded in the same position after that. At the same time, mbuna120 was experiencing terrible pressure from both mostly_harmless and mucco.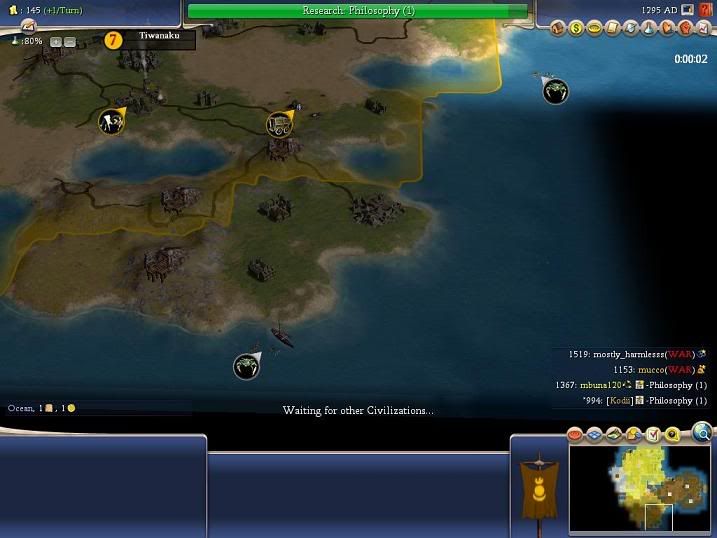 In the end, time was running short so we decided to call it a draw. It was a good experience and a great game.